System
Site-specific installation, vacant house, 3705 E. 54th St., Cleveland, Ohio for ooms to Let: Cleveland
Repainted walls, drawing with oil based pen.
2016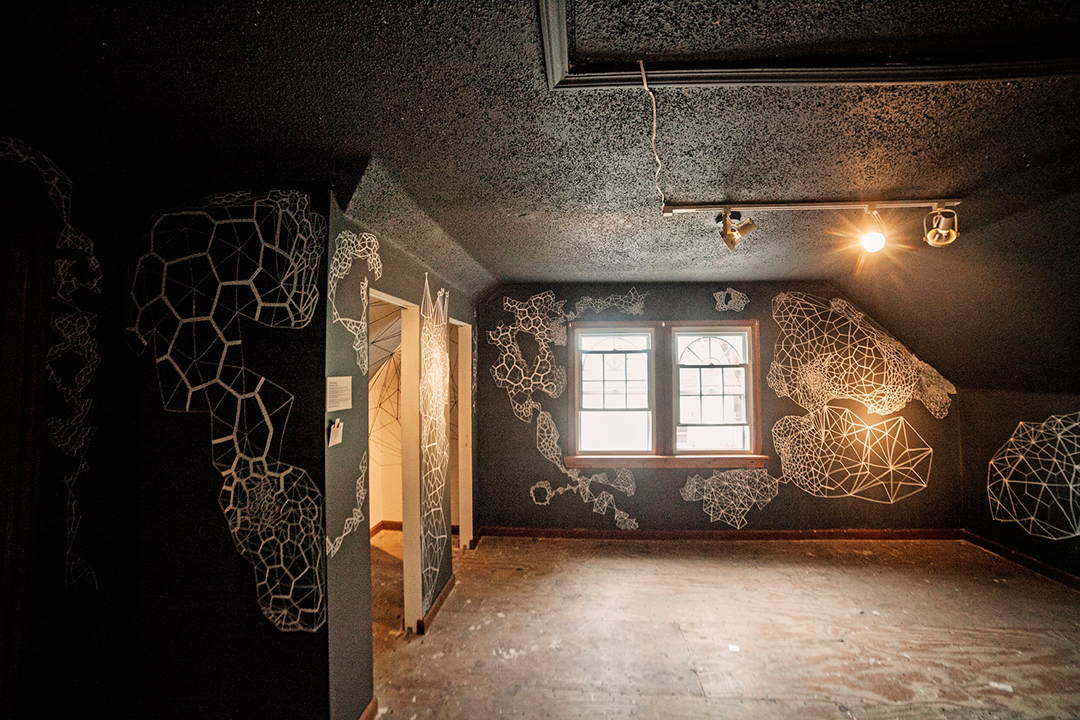 photos above by Steve Wagner
The drawings on these walls in mathematical language is a Voronoi tessellation.
It is used by space scientists to represent the cosmic web where dense clusters of galaxies are found in the universe.
I used this imagery as a metaphor to convey that we are all part of the cosmic web here on earth
and in where I live in Cleveland.
It is my hope that my work captures the reality our connection to one another and how we can live in harmony when we realize that we are all part of one big beautiful place.
 
How long did it take for me to create this work?
Prior to my arrival on site at the house, the carpeting had been removed by the curator.
The room I used was previously painted orange with a white ceiling.
Holes had been left where the Land Bank had tested for the presences of asbestos.
The working conditions were not optimal. No running water, no electricity, and no restrooms.
I worked for about 7 days (4 to 5 hours each) from April 23 - May 19, 2016.
We used an external generator to bring electricity were it was needed during the event.
 
"BEFORE" pics of the room
These are a series of 'Before' pictures and some of the drawings in process.
photos above, Christine Mauersberger